press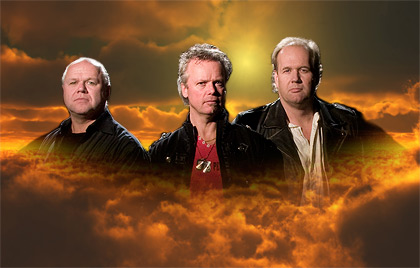 Important facts and history about Grand Illusion
Grand Illusion started in 1986 under the name Promotion. Original members were Anders Rydholm, Per Svensson, Peter Sundell and Christian Sundell.
Peter and Christian are brothers. Peter is 7 years older than Christian.
Anders first band was named "Knock Out". He started that band together with some friends when he was 13 years old.
Anders started as a drummer but at the age of 17 he switched to bass as his main instrument.
During the years in the 80's the band Promotion was pretty active and played live a lot. But they didn''t record any album or single.
In the beginning of the 90's all members were active with normal day time jobs, starting new carriers and the band were more or less put on hold.
In 1995 Anders built a house and in that house he also built a music studio. That was the start of a more active period when the band also started to write and record a lot of new music.
In 1995 Anders and Peter recorded a CD with Christmas music together.
The first album, under the band name Promotion was released in 1997. The album title is Not For Sale. Maybe not the smarest carrier move to try to use humor in an album title, since so many people thought that they couldn't buy the album and that it was just as promotional copy.
The second album, Yeah Yeah, was relased in 1998.
The band changed name to Grand Illusion in 2001 when the third album, The Book Of How To Make It, was released.
Album number 4, View From The Top, was released in 2002. this album features guest appearnce by Steve Morris of Heartland, Shadowman on guitar and Chriso Ousey also helped out penning a lyric for "Battle For Your Heart".
2003 the band played live at "The Gods" in Bradford, England, for the first time in many years and the young guitar player Ola af Trampe entered in the band..
Ordinary Just Won't Do, was the band's fifth original album and it was released in 2004, featuring lyrics from Steve Overland, Chris Ousey and Steve Newman as well as Ola Karlsson and Anders Rydholm..
In the beginning is a compilation album of the first two albums released under the name Promotion. It's a double CD with four extra bonus tracks.
Peter is a skilled tennis player.
Anders has written two musicals, Dacke (1993) and Compagniet (2002). Both released on CD.
Per sang the lead roll of rebel leader Nils Dacke in Anders first musical Dacke. Peter also starred in that musical as a rebel captain.
Per also had role in the second musical Compagniet. This time he played a mean drunken seaman. Peter sings on the album but didn't star in the stage show.
Per loves cars. Many gear boxes bare that witness. Per is now the proud owner of a VW Tourag V6.
Peter drives a Volvo V50 D5.
Anders drives a Saab 9-3.
Per is the oldest member in the band and he likes to relax with a glas of a really good red wine.
Per is the only one of the members that has a degree in music. He know also works as a music teacher.
Anders and Per has been playing together since 1980 and the band Spartacus. Anders played bass and Per was the lead singer.
During his entrance in the national final of Sweden's biggest talent show in 1981, Per managed to fall of the stage land into the orchestra pit. The band Sparatcus for some streange reason didn't win that talent contest. The vicory went to a girl playing the accordeon.
Anders and Peter first met in 1982 when Anders helped his cousin, Michael, record a demo (with the first Fostex 8 track machines). The singer in the band Wulcan was Peter. The drummer was Peter's younger brother (and later Grand Illusion drummer) Christian.
Wulcan recorded two singles.
1983 Anders and Peter formed the band Mark V.
Peter has recorded two solo singles. One when he was 9 years old and the second in 1988. The last single is entitled, Serena. Anders wrote the music and Peter the lyrics. Anders also helped out producing the single. The b-side of that single is entitled: Tiden rinner ut. Peter's younger brother Christian played drums.
Grand Illusion comes from Vaxjo. A small town in the southern parts of Sweden, but Peter and Christian originally come from Nassjo. An even smaller town 110 kilometres north of Vaxjo.
Per is born in Lyckelse. A small town in the northern parts of Sweden but he moved as young kid to Vaxjo.
In 2006 Anders released the Code album together with Sherwood Ball. Per sings background vocals on this album.
During 2007 Anders makes the Overland - Break Away album together with singer Steve Overland. Per of course helps out singing background vocals.
In 2007 Peter release the Decoy album together with Torben Enevoldsen.
Anders has produced H.E. Demon Kogure's Girls Rock albums. 3 albums plus one compilation album with 2 new songs. Peter and Per has been singing background vocals on these albums.
In 2008 Anders toured with H.E. Demon "Kakka" Kogure in Japan.
Peter and Per sings background vocals on the Seikima-II 2009 release; Akuma Nativity - Songs Of The Sword.
In 2009 Anders also produced H.E. Demon "Kakka" Kogure's "Freezer theme" for the Dragonball Kai song collection.
In 2010 Peter and Per sings background vocals for the Seikima-ii album "Akuma Relativity".
Legendary Japanese rockstar H.E. Demon "Kakka" Kogure are doing a special guest performance on the Grand Illusion comeback album. Brand New World. Demon is singing lead on the song: "Search For Light".
In 2010 Grand Illusion recorded the song "1999 Secret Object" for the 2010 Seikima-ii tribute album "Akuma to no Keiyakusho"
In 2011 Grand Illusion give away two songs for two differrent charity albums for Japan to help the people that was affected by the Tsunami. The song "The One" for the "One For All, All For One" album that Marquee/Avalon released. AorHeaven also released a charity album, "Rock For Japan" and for that album Grand Illusion gave away the song, Yumi's Eyes"
Work of Art records the song "Castaway" that Anders wrote together with Robert Säll and Hanif Sabzevari. This song ends up on the "Work in Progress" album. Anders also plays, guitar, bass and keyboards on the recording..
In October 2011 Prince of Paupers will be relesed. The 6th album under the Greand Illusion name. This album features Steve Lukather, Jay Graydon, Paul Buckmaster, Gregg Bissonette, Tim Pierce, Muris Varajic, Robert Säll, Staffan Stavert and Kjell Klaesson.