Grand Illusion history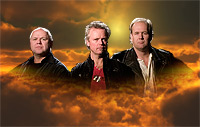 Anders Rydholm started to play music together with Per Svensson in the band Spartacus in 1980. Per was the lead singer and Anders played the bass. When Anders cousin, Mikael Carlsson in 1982 wanted help to record a demo for his band Vulcan, Anders learned to know the bands singer and guitarist Peter Sundell and Peters younger brother, the drummer Christian Sundell. Peter joined Anders in the band Mark V, a rock funk band with horn section in 1983. A couple of years later in 1986 Anders, Peter, Per and Christian founded the band Promotion. Promotion were active a couple of years in the end of the 80's playing heavy rock, AOR and some WestCoast inspired music. But when all their normal carriers took of in the beginning of the 90's the band were laid on ice.

The new studio a vitamin injection
When Anders built his house in 1995 he also built a music studio. That was the start of a more active phase for Promotion. All the boys put there effort in first recording old songs from the early 80's era. Original good songs that they wanted to capture on tape but this also led to the writing of a lot of new songs.
Not for sale
In 1997 the first Promotion album "Not for sale" came out on there own label (and with some help from Georg Siegl at Aor-Heaven). A mixture of WestCoast, AOR and also some pop oriented songs.
Yeah Yeah
They immediately started on the next album. Yeah Yeah are more pop and groove oriented than the first album. Horns are used on nearly all songs and Anders thinks that some of his most well written songs appear on this album. Special songs for him are: Heaven, Trampoline and My Daughters Eyes. Yeah Yeah also introduces a new song writing partner for Anders in the lyricist Ola Karlsson. With Ola's help the speed of the song writing is shifting into high gear. The album were released in the end of 1998 at our own label.
Grand Illusion and The book of how to make it
Many reviewers wanted the band to go the Aor oriented path and to give it a try the band recorded a 5 song demo without horns and sent it out to a couple of labels. Khalil Turk of Escape Music Ltd, England replied direct and wanted to sign them on the spot. A week later the band decided to give it a try and signed a one record contract with options for two more albums. Khalil also wanted the boys to consider changing the band name. They thought out nearly 100 names and nailed it down to 4. Khalil Turk was then given the chance to chose the name out of these four alternatives and he choose; Grand Illusion.
Nearly exact a year after they signed to Escape there first album under the new name came out in May 2001, The book of how to make it. Much heavier and more melodic than the previous albums under the Promotion name. It became the start of an new era and with a whopping 94 out of a 100 in the rock bible magazine Burrn in Japan, the highest score in the May issue the ball was rolling.
In the beginning
Due to the success of Grand Illusions first album, Escape Music quickly wanted to release there first Promotion albums under there new name Grand Illusion. The result became a double album with four new bonus songs giving it a total of 25 songs. Sadly enough the mastering engineer missed one song, After all, from the first album, Not for sale. It's credited on the album but not there in the audio. "After all" you could download in full length from this site in the download section. The album is named "In the beginning" and it went on the market in the autumn of 2001.
View from the top
The success of "The book..." gave a lot of inspiration and all ready a year later in June 2002 the follow up "View from the top" was finished and on the market. This album was a new high score in the June issue of Burrn with the boys getting the same 94 out of a 100 as the previous album.
View from the top, is one step heavier than what Grand Illusion had done before but it was very well received by both fans and the critics and established the band as a solid AOR act with some pomp influences. This albums also features lyrics from Chris Ousey and guitar work from Steve Morris, both from the british band Heartland. Nearly all guitar solos on this album are done by Roger Ljunggren from T'Bell.
The rest of the year 2002 Anders worked hard on staging his musical; Compagniet. During the summer he also made a record of the musical and Grand Illusion were temporarily put on hold.
The Gods 2003
In May 2003 Grand Illusion played live for the first time in 10 long years at the Gods festival in Bradford England. To be able to pull of that show they had to find a lead guitarist to help out during the show. That search led to the find of Ola af Trampe. Then a 23 year young guitar player from there own home town of Växjö. Ola quickly became a natural member of the band with his fluent melodic guitar playing. The Gods show were a big success and gave the boys new inspiration. Therefore the spring of 2003 was also the start of the recordings for the next album.
Ordinary just won't do
With the addition of Ola af Trampe as Grand Illusions's new guitarist new inspiration quickly came and soon there were 13 new songs written. The only problem was that lyricist Ola Karlsson divorced his wife and lacked inspiration for writing lyrics. Chris Ousey of Heartland, Steve Overland of FM and Steve Newman of Newman helped out by writing two lyrics each.
This album is the heaviest of all Grand Illusion albums. Some songs are close to Heavy Metal but there also some really classic AOR tunes as well. Many great reviews of this album especially in Europe when it was released in August 2004. The release was also celebrated with a big release party and the band once again played live.
The end in 2005
But in April 2005 the band decided to call it a day.Both Anders and Peter wanted to try there things working with other people. Anders started the banc Code together with Sherwood Ball, produced Steve Overland and the album Overland. In 2006 Anders got contacted by Avex in Japan and asked if he would consider to produce an album for Japanese Heavy Metal icon H.E. Demon Kogure from the band SEIKIMA-II, a fun and big challenge that Anders of course dived right into Since then Anders has produced three albums with Demon under the moniker, Girls Rock, and also toured in Japan with Demon during 2008. In the beginning of 2009 Anders also produced and arranged background vocals for the SEIKIMA-II reunion album; "Akuma Nativity Songs Of The Sword". Peter and and Per of course did magical work with these background vocals,

Peter started the band Decoy, together with Danish guitar player Torben Enevoldsen and they released an album entitled; "Call Of the Wild". Peter also sang on the project album "Northern Light".
Per has followed Anders path and helped out doing background vocals for, Code, Overland, Demon Kogure, Heartland, SEIKIMA-II etc. Per is natural part of Anders arranging with his musicality, amazing range and ability to sing in such many different ways and styles.
Grand Illusion - 2009
In 2008 H.E. Demon Kakka asked if it was possible to bring in Peter to help out with the background vocals for the third Girls Rock album. Anders asked Peter and he agreed to help out. That was the start for many talks and the decision was taken to record a couple of songs and see what would happen. But it did not stop with only a couple of songs. Anders quickly wrote 17 new songs.
Per Svensson decided to also come back to the band but other original members either didn't have time or wasn't interested to take part of a reunion. So Grand Illusion of today consists of Anders, Peter and Per. It's not a big difference from the past since Anders played most of the instruments on the old albums and Peter and Per has always done all the vocals.
Recordings start for Brand New World
In april 2009 Anders took the plane to Los Angeles to record drums with Gregg Bissonette in WoodCliff studios, Sherman Oaks. While in LA he also took the time to record guitar solos with Tim Pierce and write some lyrics together with Arlene Matza Jackson. Arlene is helping out writing the majority of the lyrics on this new album with the working title "Brand New World". For us this is a new start and therefore that title feels just right, says Anders.

Mike Slamer, of City Boy and Streets fame, is also guesting on one song. Mike, a guitar hero for the boys in the band for many years, are pulling his magic strings on the song "157th breakdown".

It's also with great pleasure and pride we announce that H.E. Demon Kakka from the legendary Japanese hard rock band Seikima-II are guesting on the song "Search for light". This song is only on the Japanese album version. His Exellency sings a duet with Peter and it's a real highlight on the album.
Other guests on the album are Danny Jacob on guitar solos, Roger Ljunggren, guitar solos and Kjell Klaesson on acoustic guitar.
Grand Illusion - Prince of Paupers
The relesase of Brand New World in 2010 and all the postive repsone the album gained, was fuel for more song writing and only a couple of weeks after the Brand New World release, the first new songs was written. It only took a three months to come up with 15 songs and in August 2010 Anders, Peter and Per took of to Sherman Oaks in Los Angeles, to record with Gregg Bissonette (David Lee Roth, Spinal Tap, Ringo Starr), Steve Lukather (Toto), Jay Graydon (Airplay, Manhattan Transfer, Air Supply) and Tim Pierce (Rick Springfield, Micheal Jackson, Phil Collins). A big moment for the Gi boys to record with so many of their musical heroes.
Later on also legendary arranger/conductor Paul Buckmaster (Elton John, David Bowie) helped out with an orchestral arrangment for the song Gates of Fire and the Bosnian guitar wizard Muris Varajic did solos for 5 songs. Muris is a big musical injection for the band and he also joined us for a live gig in Augusth 2011. Robert Säll from Work of Art and W.E.T also do a solo for the Japanese bonus track Not For Sale. We would also like to introduce Staffan Stavert to you. He is now the new keyboard player in our "live Grand Illusion band". On this album Staffan plays keyboards on two songs. Kjell Klaesson is as usual helping us with acostic guitar.
Arlene Matza-Jackson has helped out writing most of the lyrics and the music is as always written by Anders Rydholm.
Firefest 2010
The band also did a couple of live gigs during 2010 and the big highlight of the year was the Firefest appearance in October in Nottingham, UK. Grand Illusion kicked of the festival and the boys were thrilled to play in front of such a devoted croud. During the rehearsals for Firefest, lead singer Peter Sundell caught Lumonia and he had to struggle hard to be able to sing at all and after the show he totally lost his voice. It took more than three months before Peter was back to normal and the recordings for Prince of Paupers could continue.