per svensson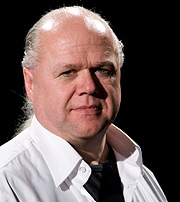 With the right of age (being the Elder of the band) Per Svensson is living proof that age is nothing but a number. Young at heart, and one might be tempt to add, young at Soul. Cause Per's powerful voice has got Soul, and without him Grand Illusion would definitely not sound the same. Per's ability behind the microphone has been put on tape by Anders Rydholm for nearly 30 years, and there seem no end in sight.
Per held the leading role in Rydholms' 1993 musical "Dacke" (about a Swedish rebel-leader in the 16th century), and has been singing background vocals for Demon Kogure, Seikima-II, Heartland, Overland, Code etc. In Grand Illusion he keeps a more reserved profile being the master voice behind Grand Illusion's big background vocals.
Per has a master's degree in music and is currently working as a teacher on high school level. He gives piano, bass, guitar and music history, and loves working with the young kids, teaching them how to play. Another passion of Pers' is cars. Something several gearboxes have been brutally made conscious of, as Per seems to think he's Swedens answer to Michael Schumacher. But wake him up in the middle of the night and he can tell you the right amount of horse powers in every engine to every car in the world. Or you can ask him to play any David Foster piano-riff at all, and he will cheerfully respond by rushing to the piano and play until the cows come home. Per is also a great fan of AOR-bands such as Maxus, Pages, and Toto, and alongside Bill Champlin and the late Warren Wiebe, Tommy Funderburk are his major vocalist-influences.
members
guests
Grand illusion live members
old members