arlene Matza-jackson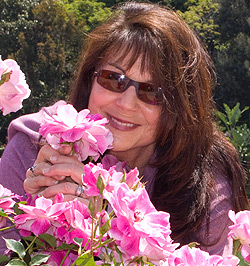 Arlene Matza- Jackson
It was Sherwood Ball who introduced Arlene and Anders to each other. Arlene helped pen the ballad "Sworn To Silence" for the Code album and that was the start of there co-laboration.

Songwiriting
Arlene is gifted songwriter/producer with a special talent for words, melody and production. Her songs have been sung by many great artists, such as Emma Hunton (one of the Leads in the Broadway Hit, "Spring Awakening) for Hello Kitty CD (2009), Code, Earth, Wind & Fire, Celine Dion, Kenny Loggins, David Foster, Robbie Nevil, Tata Vega, Joclyn Brown, LuLu, The Emotions, Kazu Matsui, Nia Peeples, Hadas (Epic/Sony) to name a few.

Film and TV
She has also had many songs in Film and TV such as the hit TV Soap "Passions" ( 2 different seasons); some of her feature film credits include End titles and co-produced the song ("We Go It Goin' On") for the Disney film and soundtrack:"First Kid"; Featured montage scene ("Betcha Can't Catch Me") for the Viacom/Paramount film: "Family Plan"; co-wrote the end title ("No Tomorrow") with Kenny Loggins and David Foster for feature "Fresh Horses Weintraub Entertainment; Opening & End credits ("Breakaway") for feature "Flamingo Kid (Matt Dillon/Gary Marshall Director). She wrote for the successful TV series "FAME" and then In the late 90's for FAME/LA. and many more…

New projects
Currently, Arlene is broadening her horizon's (literally) by working with wonderful International Artist, Noa Dori, co-writing the songs for her "intimate" album along with the brilliant Arranger/Composer, Paul Buckmaster, soon to be released in 2010. Simultaneously. Her stature as a writer, professionalism and dedication to her craft and love of music expands her horizons continuously.

A & R
Her history in the music industry has enabled her to develop a tremendous base of experience and knowledge in areas that range from A&R Executive (Columbia Records, now Sony/BMG) to the creative fields of Music Supervision, Producing and Songwriting hence creating her company ALETHEA MUSIC.

As an A&R exec., she worked with such great Artists as Bruce Springsteen, Michael Jackson, Ringo Starr, Kenny Loggins, Lionel Richie, Burton Cummings, Jessica Simpson, and many, more. She also worked with Producers such as Randy Jackson, Bruce Botnick, Bill Botrell, Daryl Simmons, Ted Templeman, and David Foster and many others. In the Music Supervision arena, Arlene has worked on such great projects as the first "WAYNE'S WORLD (Penelope Spheres Director/Assoc. Music Supervisor with Maureen Crowe), "IT'S MY PARTY" (Randall Kleiser Director/MGM- Music Supervisor), "NATURAL BORN KILLERS" (Oliver Stone & Bud Carr-Music Consultant/Soundtrack), "ASPEN EXTREME" (Touchstone Films/Music Supervisor), "THE JACKSON'S Mini-series (Music Consultant) to name a few.

Teaching
Arlene complements her talents by taking her knowledge and experience into the classroom. She has been teaching for many years at UCLA Extension (Performing Arts), and the Musician's Institute in Hollywood.
members
guests
Grand illusion live members
old members