Ola af trampe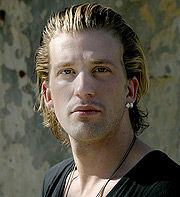 Ola af Trampe entered the band when they needed a guitar player for a livegig at "The Gods" in Bradford, England 2003.
He played guitar from 2003 to the end in 2005. Ola appears on the album "Ordinary Just Won't Do but he's not playing on the 2010 and 2011 releases.
On the song "1999 Secret Object" that Grand Illlusion recorded for the 2010 Seikima-ii tribute album "Akuma to no Keiyakusho", Ola played rhythm guitars.
Since 2010 Ola is playing guitar on the Grand Illusion live gigs.
members
guests
Grand illusion live members
old members