steve lukather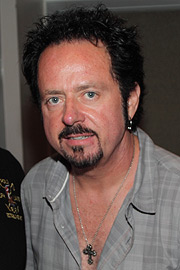 Steve Lukather really doesn't need any presentation. Luke's one of the most famous guitar players in modern time. From his work in Toto to all the studio sessions, he is one most of the most influental guitar players out there.
Steve is also a favourite guitar player for all the Grand Illlusion boys, so to have him play on our album has always been a dream. That dream has now come true since Luke is playing a killer solo on the ballad "So Faraway".
Being such big fans of Luke and Toto, all the GI boy's were quite nervous when Steve walked into the studio, but it couldn't have gone better. Already the first take was great and Luke's feel for what's right is magic and it didn't take many minutes before Steve was finished with the solo leaving the Gi boy's sitting there with a big smile on there faces. It's so easy to understand why Luke's been one of the most in demand guitar players in the world. True musical class and a really nice and relaxed guy.
Thanks Luke!!! It means a lot to have you play on our album.
members
guests
Grand illusion live members
old members