kjell Klaesson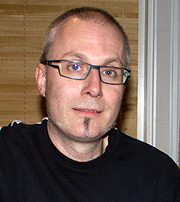 Anders and Kjell started to play together in 1978. Anders was 14 and played drums and Kjell was 16 years old played guitar. Their first band together was named "Knock Out". They then mostly played covers but soon the guys started to write there own material. Several more bands followed before Kjell left Vaxjo to study in Malmo.
Kjell is a very talented guitar player with a special sense for voicings and chords. He's great at both electrical and acoustic guitars as well as bass.
So it's with great pleasure we have Kjell on new albums. Kjell plays aoucstic guitar on "Forever with you and "Believe in Miracles"". Kjell - It's so fun to play together again.
members
guests
Grand illusion live members
old members