Mike Slamer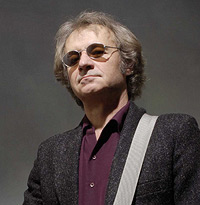 Mike Slamer
Mike's magic guitar tone and tasty playing is legendary in the AOR Melodic Rock community, but he's not only a great guitar player, he's also a brilliant producer and song writer.
Originally from Birmingham, Great Britain, Mike started his carrier in the band City Boy. In 1983 he moved to the US and formed the band Streets together with Kansas singer and keyboard player, Steve Walsh, bass player Billy Greer and drummer Tim Gerht. When Streets shot down in 1986 Mike continued to work as a session musician and composer. Still today, he works hard writing music for TV and film.
Other band's that Mike has been heavily involved in are Steelhouse Lane and Seventh Key. He has also released a solo CD (Nowhere land) and during 2010, a new album made together with singer Terry Brock will come out.
Grand Illusion are proud to have one of our all time guitar hero's as a guest on our album.
members
guests
Grand illusion live members
old members