tim pierce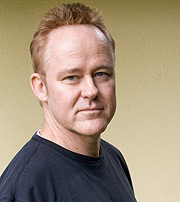 Born in Albuquerque, New Mexico, Tim moved to Los Angeles in the early 80's and quickly became on of the most sort after guitar session players in LA. Producer Keith Olsen introudced Tim to Rick Springfield and a lot of other artists. It didn't take long before Tim was ranked on the A-list in the LA studio world. Tim is an extremely versatile guitar player that cover's many different playing styles. Since leaving Rick Springfield's tour band in the middle of the 80's Tim has fully concentrated on his sesion work.
We are very proud that Tim plays guitar on our albums and his solos are nothing but pure dynamite.
Credits
Tims' credits is endless and here's a few artists that he has worked with; Michael Jackson, Shakira, Richaed Marx, Christina Aguilera, Rick Sprinfield, Bruce Springsteen, Meatloaf, Santana, Celine Dion, Bon Jovi, Alice Cooper, Eros Ramazotti, Faith Hill, Madonna, 3rd Matinee, Toy Matinee, Seal, Rod Stewart, Phil Collins, Kelly Clarkson, Peter Cetera, Kenny Loggins, Roger Waters, etc.
members
guests
Grand illusion live members
old members