anders rydholm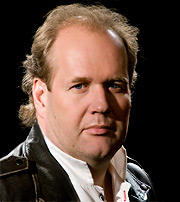 Anders Rydholm IS Grand Illusion. Or correctly, without Anders there would be no Grand Illusion. He is the force behind the band, and with his energy, commitment and engagement he keeps inspiring (and annoying) the rest of the band members to continuously do their best performance at every occasion.
Anders was brought up in a musical home, and fell in love with music immediately. He got his first drum kit at five, took piano lessons for six years and then followed more drums, bass (soon becoming his first instrument) and guitar, anything to keep the music playing.
His high self-demands is often reflected on his co-workers and his impatience is infamous with anyone who's been in the studio at the same time as this producer-extraordinaire. But what those people also see is a highly professional craftsman, who's never out of ideas, who never tires and who is an expressive songwriter with an outstanding sense of melodic strength.
Anders has also written, arranged and produced for Demon Kogure, Seikima-II, Code, Overland, Heartland etc.
Influences stretches from David Foster, Gino Vanelli and Bill Champlin to (music-score composer) John Williams, Toto, Mr Mister and Giant.
members
guests
Grand illusion live members
old members