gregg bissonette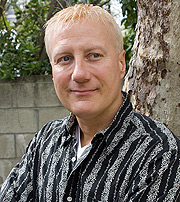 Gregg Bissonette are one of the worlds most wellknown and most appreciated drummers. Already from the start in Detroit, Michigan, music was a big part in Gregge's life. Brought up in a very musical family - hs dad, Bud, played the drums and his mum Phyllis, played piano and vibes. Gregg also has a brother Matt, that plays bass.
At the age of 5 Gregg started playing on his father's drums and his dad also became his first teacher. Gregg has stiudied trumpet and is also a very talented singer.
Musicwise Gregg's a very melody oriented groovy drummer that never puts technique before the song and the melody. It's always about the song and the groove. A genuine interest for all sorts of music is also a key ingiridient for Gregg's musical approach. He loves to play anything from Jazz, Latin, to Funk, Rock and Heavy Metall.
Humour and devotion
One other important factor for Gregg's success is that he is a really fun guy to work with. Always cracking jokes or lifting the spirit in the studio. Combine that with really great drumming, 100% focus, always willing to give you an extra take just to be sure you have it all and you get a killer combination for success. The new Grand illusion album is the 5th album Gregg does with Anders.
Credits
His credits is endless and rangie from his hero; Ringo Starr to David Lee Roth, Steve Vai, Joe Satriani, Steve Lukather, Don Henley, ELO, Santana, Toto, Gino Vannelli, Duran Duran and many many more.
members
guests
Grand illusion live members
old members