news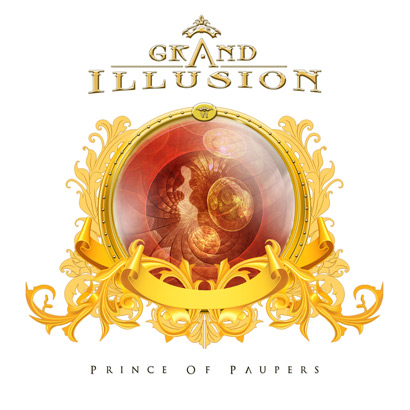 Grand Illusion - Prince of Paupers
The relesase of Brand New World in 2010 and all the postive repsone the album gained, was fuel for more song writing and only a couple of weeks after the Brand New World release, the first new songs was written. It only took a three months to come up with 15 songs and in August 2010 Anders, Peter and Per took of to Sherman Oaks in Los Angeles, to record with Gregg Bissonette (David Lee Roth, Spinal Tap, Ringo Starr), Steve Lukather (Toto), Jay Graydon (Airplay, Manhattan Transfer, Air Supply) and Tim Pierce (Rick Springfield, Micheal Jackson, Phil Collins). A big moment for the Gi boys to record with so many of their musical heroes.
Later on also legendary arranger/conductor Paul Buckmaster (Elton John, David Bowie) helped out with an orchestral arrangment for the song Gates of Fire and the Bosnian guitar wizard Muris Varajic did solos for 5 songs. Muris is a big musical injection for the band and he also joined us for a live gig in Augusth 2011. Robert Säll from Work of Art and W.E.T also do a solo for the Japanese bonus track Not For Sale. We would also like to introduce Staffan Stavert to you. He is now the new keyboard player in our "live Grand Illusion band". On this album Staffan plays keyboards on two songs. Kjell Klaesson is as usual helping us with acostic guitar.
Arlene Matza-Jackson has helped out writing most of the lyrics and the music is as always written by Anders Rydholm.
Firefest 2010
The band also did a couple of live gigs during 2010 and the big highlight of the year was the Firefest appearance in October in Nottingham, UK. Grand Illusion kicked of the festival and the boys were thrilled to play in front of such a devoted croud. During the rehearsals for Firefest, lead singer Peter Sundell caught Lumonia and he had to struggle hard to be able to sing at all and after the show he totally lost his voice. It took more than three months before Peter was back to normal and the recordings for Prince of Paupers could continue.
The album will be released on October 19th in Asia and Japan through Marquee/Avalon.and October 29th in Europe through Metal Heaven.