news - Tim pierce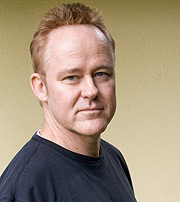 Tim Pierce - guitar session wizard
In the second studio day of recording the brilliant drumming of Gregg Bissonette in LA, we stopped to have lunch, which turned into a "favorite" guitar players chat. One thing led to another and before lunch was over, our conversation led us right to Tim Pierce's door, one of the most gifted guitar players in the world. A few days later Tim was booked for a guitar session. Not only is he one of the busiest and best studio guitarists on planet earth, but he is a big guitar hero for the Grand Illusion members.
The recording session with Tim was fantastic and he gave us the fire in his fingertips playing great guitar solos on 7 songs for this album. Tim has an incredible tone and feel for what's right. If you combine that with an incredible melodic sense and tasty playing, you understand why he is one of the most sought after guitar players in this world. Not only does Tim live, sleep and breathe music, but he is one of the nicest musicians I have ever had the pleasure to work with. We are very proud to have Tim as a guest on this album.

Credits
Tims' credits is endless and here's a few artists that he has worked with over the years; Michael Jackson, Shakira, Richaed Marx, Christina Aguilera, Rick Sprinfield, Bruce Springsteen, Meatloaf, Santana, Celine Dion, Bon Jovi, Alice Cooper, Eros Ramazotti, Faith Hill, Madonna, 3rd Matinee, Toy Matinee, Seal, Rod Stewart, Phil Collins, Kelly Clarkson, Peter Cetera, Kenny Loggins, Roger Waters, etc.
Video Interview
Below you have a video interview with Tim and you will also see some footage from the Grand Illusion guitar session. You will find more video footage with Tim in the media section of this site.