news - Gregg Bissonette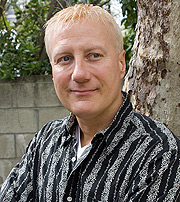 Gregg Bissonette play's drums on the new Grand Illusion album
It's with great pride that we introduce the drummer on the new Grand illusion album, Gregg Bissonette. Gregg is a real humble and funny guy, a seasoned professional with a fantastic personality, which makes it so great to work with him. He's always making sure that everybody around him feels good and relaxed. He brought that same magic with him this session. Gregg works really hard to give the artists what they want without having any big ego. Gregg is full of heart and passion, along with great drumming combined with a great attitude - that's why everybody loves to work with Gregg.
Impressive credit
Gregg have played with a lot of famous artists and bands over the years. From David Lee Roth, Steve Vai, Billy Sheehan, Toto, Steve Lukather, ELO, Ringo Starr, Joe Satriani, Don Henley, Gino Vannelli, Santana, James Taylor, Duran Duran, Code, Overland, Demon Kogure. etc.
LA April 2009
In April 2009 Anders flew to Los Angeles to record drums with Gregg Bissonette in WoodCliff Studios, Sherman Oaks. During two intense days Anders, Gregg and engineer Frank Rosato recorded the drums and the foundation for the new Grand Illusion. This is the 5th album Anders and Gregg have done together. Gregg has also played on the Code, Overland and two Demon Kogure albums. Besides that Gregg has also played on several of Anders songs for other artists.
Video Interview
Check out the video interview below with Gregg. There are more vidoes with Gregg in the video section. Don't miss this hilarious adventure. It's great fun.