news - h.e. Demon kakka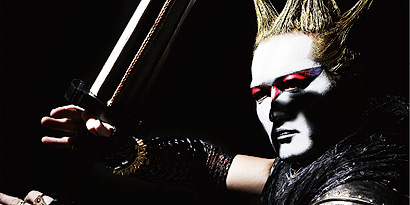 H.E. Demon Kakka
His Exellency Demon Kakka from the legendary Japanese band Seikima-II are making a special guest appearance on our new album; Brand New World. You could hear his demonic vocals on the song "Search for light". A song Anders wrote for this special appearance. This song really show's his excellency's amzing vocal abilities.
It's actually H.E Demon Kakka that are one of the key sources for bringing Grand Illusion back together again. During Demon's Hakurai Culture Rock Show around Japan in 2008, His Exellency asked Anders if that was possible to bring back Peter to help sing the background vocals, together with Per, for the third Girls Rock album, Tiara. To once again create the magic that happens when Peter and Per sings together. After the tour had ended Anders asked Peter if he would be interested to do it and Peter said yes.This is the start for Grand Illusion re-union.
Grand Illusion are extremely proud to have this truly amzing performer, singer, artist, entertainer and great friend joining us on our new CD.
You find more info about H.E Demon Kakka on his web sites:
Demon's personal web site
Seikima-II website
Seikima-II MySpace