Grand Illusion - in the beginning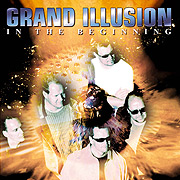 In the beginning
Due to the success of "The book of how to make it" Escape Music quickly wanted to follow up the success by releasing the bands previous releases, under the name Promotion, on a double CD with 4 new bonus tracks. This time with the new band name Grand Illusion.
The record was sold for the price of a normal CD so it was a good buy for Grand Illusions new fans even if it style wise is much softer than the other Grand iIllusion albums. Sadly the mastering engineer missed to put the song "After all" on the CD but you could download the full track down below.
Music: Anders Rydholm
Lyrics: Ola Karlsson

Click on the song titles below to listen to the songs!
Songs - Mp3 files
1. Poor Cow
2. Big stuff solution
3. Trampoline
4. The hunter and the fox
5. Conscience calling
6. The best ones are taken
7. My daughter's eyes
8. Heaven must be a place somewhere
9. Premonition
10. She bitch, he bitch
11. Change in the weather
12. Man-made thing
13. Glad to see you go
14. One in a million
15. Wanted dead or alive
16. After all
17. On my own
18. Higher love
19. Make a turn
20. Pack of lies
21. Roller coaster ride
22. Nothing for granted
23. Tomorrow
24. Breathe
25. Without goodbye
Musicians
Anders Rydholm - keyboards, bass, guitars, producer, arranger
Peter Sundell - lead and background vocals
Per Svensson - lead and background vocals
Christian Sundell - drums
Ola Karlsson - acoustic guitar
Stefan Leoson - guitar and background vocals
Jon Stavert - guitar
Robert Vadadi - guitar solos
Joackim Wickström - trumpet
Håkan Malmberg - saxophones
Janne Klep - saxophone
Recorded and mixed in GodisPåScen studio, Växjö 1995 - 1998 by Anders Rydholm.
European release
Escape Music Ltd (ESM068)
All rights reserved GodisPåScen AB.