grand illusion - brand new world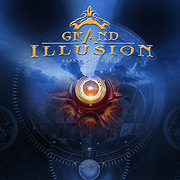 Grand Illusion - Brand New World
In 2008 H.E. Demon Kakka asked if it was possible to bring in Peter Sundell to help out with the background vocals for the third Girls Rock album. Anders asked Peter and he agreed to help out. That was the start for many talks about the future and the decision was taken to record a couple of songs and see what would happen. But it did not stop with only a couple of songs. Anders quickly wrote 17 new songs.
Per Svensson decided to also come back to the band but other original members either didn't have time or wasn't interested to take part of a reuniuon. So Grand Illusion of today consists of Anders, Peter and Per. It's not a big differnce from the past since Anders played most of the instruments on the old albums and Peter and Per has always done all the vocals.
Recordings start
In april 2009 Anders took the plane to Los Angelese to record drums with Gregg Bissonette in WoodCliff studios, Sherman Oaks. While in LA Anders also took the time to record guitar solos with Tim Pierce and write some lyrics together with Arlene Matza Jackson. Arlene is helping out writing the majority of the lyrics for this new album. For us, this is a new start and therefore the title "Brand New World" feels really good.
Music: Anders Rydholm
Lyrics: Arlene Matza-Jackson, Anders Rydholm

Songs - Mp3 files
1. Never Find Her Alone
2. All Out Of Love
3. 157th Breakdown
4. Emily
5. I'm Alive
6. Burning Bed
7. Brand New World
8. Evil and Pain
9. Playing With Fire
10. Warning signs
11. Sacrifice
12. Forever with you
13. Search for light (special guest H.E. Demon Kakka)

Musicians
Anders Rydholm - keyboards, bass, all rhythm guitars
Peter Sundell - lead and background vocals
Per Svensson - lead and background vocals
Gregg Bissonette - drums
Tim Pierce - guitar solos
Mike Slamer - guitar solo on 157th Breakdown
Danny Jacob - guitar solos
Roger Ljunggren - guitar solo on "Sacrifice", Playing with fire
Kjell Klaesson - acoustic guitar on "Forever with you"

Special guest apperance by:
H.E. Demon Kakka - lead vocals on "Search for light"

Produced and arranged by: Anders Rydholm

Recorded and mixed in GodisPåScen studio, Växjö, Sweden 2008 - 2009 by Anders Rydholm. Drums recorded in Woodcliff studios, Sherman Oaks, USA, by Frank Rosato. Guitar solos also recorded by Tim Pierce, Mike Slamer, Roger Ljunggren and Danny Jacob.

Mastered by Frank Rosato
Graphics by: Carl André Beckston (MonoWasp)
Photos: Sune Ekstrand

Japanese release:
Marquee/Avalon MICP-10915

European release:
AOR Heaven 0045
FOR iTunes USA

FOR iTunes CANADA

FOR iTunes AUS/NZ

FOR iTunes MEXICO


All rights reserved GodisPåScen AB.